Frequently Asked Questions
About Acupuncture
Q: WHAT CONDITIONS ARE TREATABLE BY ACUPUNCTURE?
A: In Chinese medicine's terms, acupuncturists treat an imbalance of Chi, but in Western terms Nervousness Gas they treat hundreds of symptoms and conditions with positive results. Among conditions most frequently treated are the following:
Allergies

Anxiety

Arthritis

Asthma

Addictions

Carpal Tunnel Syndrome

Chronic Fatigue

Colitis

Common cold

Constipation/Diarrhea

Depression

Digestive issues

Dizziness

Emotional issues

Fatigue

Fertility

Fibromyalgia
Headaches/Migraines

Irritable Bowel Syndrome (IBS)

Insomnia

Low back pain

Menopause

Menstrual irregularities

Osteoarthritis

Pain

PMS

Sciatica

Shoulder pain

Sinusitis

Smoking

Stress

Tennis/Golf elbow

Trigeminal neuralgia

Urinary tract infections
Q: WHAT'S ACUPUNCTURE?
A: Acupuncture is a complex branch of ancient Chinese medicine, but its practical principles and methods are easily understood:
#1- Twenty main major energy channels called meridians course through the human body including the head, arms, hands, legs, feet, torso, and internal Organs.
#2-A subtle energy called Chi (pronounced chee) circulates via the meridians to all parts of the body, even the most remote cells.
#3-- Chi is the vital force, the presence of which separates the living from the dead. lts balanced, unimpeded flow is critical to sound health.
#4-- Any misdirection, blockage, or other derangement of the amount, flow, or balance of Chi may result in pain, dysfunction, and ill health.
#5-With the acupuncturist stimulates certain points (acupoints) long the course of the meridians. Such stimulation helps restore the normal balance and flow of Chi so roans and bodily systems can work together in harmony as intended. This sets the stage for the body to repair itself and maintain its own health.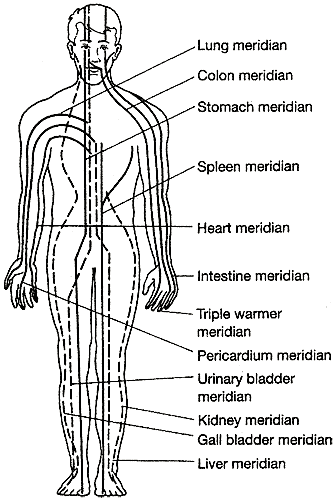 Twelve standard meridians
Q: MERIDIANS? WHAT ARE THEY?
A: Several thousand years ago Chinese physicians discovered that Chi, the vital force, circulates throughout the body along twenty major channels. These twenty major channels include the "twelve regular channels" or "twelve regular meridians", with each channel corresponding to each organ; nourishing it and extending to an extremity. There are also "eight extraordinary channels", two of which have their own sets of points, and the remaining ones connecting points on other channels. Today, English-speaking acupuncturists usually call the channels "meridians.''
Meridians form a highly-complex invisible network transporting and directing Chi to every part of the body including the head, arms, legs, torso, organs and systems. Good health, Chinese sages of old discovered, depends on a balanced circulation of Chi throughout the meridians.
Over centuries of trial and error and meticulous observation, the Chinese accurately mapped the locations of the meridians and identified hundreds of specific points in the meridians where Chi can be accessed and stimulated when there is an aberration of flow. Those points are commonly called "acupoints.''
Over time, many more points have been discovered.
Q: CHI? WHAT IS IT? WHAT DOES IT DO?
A: One English translation of the word Chi means energy, and though Chi is invisible, its presence becomes especially apparent in the workings of the bodily organs and systems which require prodigious amounts of energy. Yet the Chinese view Chi not only as powering a function, they see it as inseparable from function as though there's no Chi without function and no function without Chi.
Chi is also known as the life force, and since the total absence of Chi is death, obviously one's good health depends on a balanced distribution of Chi throughout the meridian network that influences the organs as well as the bodily systems: skeletal, muscular, endocrine (glands), circulatory, digestive, respiratory, urinary, reproductive, and nervous. When Chi flows smoothly and harmoniously throughout the meridians, each bodily system and organ interacts with and affects all the other systems and organs, which in turn are interdependent, interrelated, and integrated. Everything works together to make us feel whole and healthy, thanks to Chi.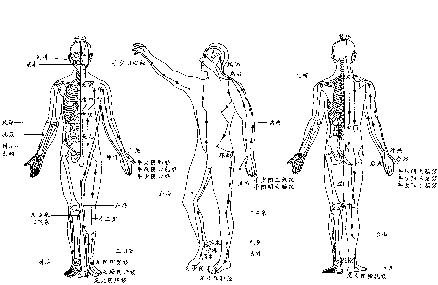 Q: WHAT ARE THE MAIN OBJECTIVES OF ACUPUNCTURE TREATMENT?
A: The main objectives are three:
#1- Relieve pain and other symptoms.
#2- Strengthen the immune system.
#3- Balance, harmonize, and integrate functions of the organs with each other, making for a unified, healthy person, rather than a collection of fragmented, disharmonious parts.
Q: WHAT HAPPENS WHEN THE FLOW OF CHI BECOMES BLOCKED?
A: Chi is meant to flow freely throughout the meridian network carrying its balanced vital force to all the body's parts, organs, and systems, thereby encouraging them to function with each other in a natural, harmonious way.
That leads to sound health. But any sustained blockage or other disruption of a balanced flow or distribution of Chi may bring on pain, a weakened immune system, and ill health.
It's important to realize that while such blockage causes diminished Chi in one organ or part, it may also cause excessive buildup of Chi in another area. That phenomenon can be understood by visualizing a meridian carrying Chi as like a freeway carrying cars. On a freeway we know what happens when one or more lanes become blocked. It's a similar idea on a meridian. A blockage may cause a deficiency of Chi beyond the blockage and a buildup of Chi behind the blockage, which may mean diminished activity of some organs and accelerated activity of others. Either way, Chi is unbalanced, so its flow must be normalized through an acupuncturist's skilled and expert care.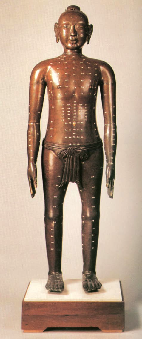 Ming Dynasty Bronze Statue Of Acupuncture Points
Q: WHAT CAN BE DONE ABOUT BLOCKED, UNBALANCED CHI?
A: After the initial consultation and examination, the acupuncturist completes the diagnosis and begins carrying out the treatment plan. The objective is to normalize the flow and distribution of Chi and balance its circulation by stimulating the selected acupoints via needles or other means. The treatment plan will most likely call for treating one to twelve or more points on each visit. At the practitioner's discretion, herbal therapies may be prescribed.
Q: WHAT ARE NEEDLE TREATMENTS LIKE? ARE THEY PAINFUL?
A: Patients who have received inoculations or other medical injections from a hypodermic needle are some- times fearful that acupuncture treatments will be as painful. But such is not the case. Medical hypodermic needles are stiff, hollow, and thick for forcing liquid into the patient's flesh, usually an uncomfortable, if not painful, procedure.
Typically, acupuncture needles are fine and flexible, no bigger around than a human hair or piece of thread. Deftly inserted into an acupoint by a skilled acupuncturist, the slender needle produces little or no sensation at all. When the needle makes contact with Chi, the energy, most patients experience a slight tingling sensation. First- time patients are usually amazed at how comfortable they are during treatment.
Q: BESIDES NEEDLES, WHAT ARE OTHER TREATMENT OPTIONS?
A:While needle treatment is traditional, other effective means of bringing about the desired physiological response include acupressure (finger pressure), blunt probes, pressure massage,, electronic stimulation, laser, heat, cold, ultrasound, combustion, herbal therapy, to name a few.
In selecting a treatment method, the acupuncturist considers the following:
#1- Patient's age and physical condition.
#2- Location of acupoints to be treated.
#3- Desired effect.
#4- Preference of the acupuncturist.
Q: HOW DOES THE FLOW OF CHI BECOME BLOCKED OR UNBALANCED?
A: The desired balance in the flow of Chi can be affected by any noxious substance, both external and internal, including poor nutrition, adulterated food, toxic air or water, infectious or contagious diseases, malfunction of an organ, ergonomic or overuse injuries, as well as home, work, sports, and auto injuries. Excessive dampness, wind, cold, heat, even emotional responses to life such as worry, anxiety, stress may affect Chi's flow through the meridians.
Q: HOW MANY TREATMENTS AND HOW OFTEN?
A: Because each patient's health problems and response to treatment are unique, the number and frequency of treatments vary.
Typically, the recommendation is two to four treatments per week for eight to sixteen treatments, although some patients respond favorably after only one or two treatments. Some may not improve until the eighth or ninth visit. Others may require two or three treatments per week for several months for maximum results. And sometimes, despite the acupuncturist's best effort and skill, the patient does no t respond to treatment. In general, acute condition requires less treatment than chronic conditions.
Q: ARE ACUPUNCTURE NEEDLES STERILE AND SAFE?
A: Yes. The government requires acupuncturists to follow very strict sterilization procedures.
In addition, presterilized acupuncture needles are manufactured, packaged, and shipped in sterilized containers to ensure compliance with the law.
Q: IS ACUPUNCTURE PRACTICED IN AMERICAN MEDICAL INSTITUTIONS?
A: Acupuncture has become universally accepted.
It's being utilized in more and more hospitals, wellness centers, pain management centers, doctor's offices (chiropractic, dental, medical, veterinary), and rehabilitation centers, where acupuncturists are a welcomed and valuable part of the team.
CONTACT US
YX Medical Group, Inc
4305 Torrance Blvd, Ste 306, Torrance, CA 90503
Tel: (310) 530-5678
Fax: (310) 370-1206
Keyword: acupuncture in Torrance, acupuncturist in Torrance, pain relief in Torrance, health care in Torrance, stress relief in Torrance, painless in Torrance, weight loss in Torrance