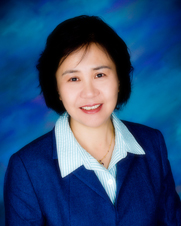 Xiao Ming Zhang Ani, Ph.D, L.Ac
Owner of Ming's Acupuncture; formally trained in China, graduated as an M.D. and an O.M.D., and has over 30 years of clinical practice experience.
While studying western medicine at the Harbin Medical University, Dr. Ani questioned the techniques of modern western medicine, and thought that there must be a better way for patients to reach their full potential and well-being.After graduation in 1982, she practiced western medicine for several years and then decided to go back to school and studied Acupuncture & Oriental Medicine at the Chinese medical school. She has been practicing acupuncture and oriental medicine ever since her graduation in 1991.
In 2001, she came to Los Angeles and was certified to practice acupuncture in the United States. She opened her first acupuncture clinic in Fullerton, CA in 2002 and her second acupuncture clinic in Torrance, CA in 2009.
In her approach to healthcare, Dr. Ani focuses on restoring balance to the body and helping patients heal themselves.
Some testimonials from our clients:
"One of my friends recommend Dr Ming to me, she told me that she is almost certain that Dr Ming can help me. The first visit, during about 40 minutes treatment, the sharp pain on my lower back and my leg gradually reduce, I could turn over by myself right after." - W.A. Torrance
"I didn't feel pain and I feel so refresh right after the treatment." - L.T. Torrance
"My doctor told me that I have restless feet syndrome, a kind of neuralgia, and the only advice he could give me is to take painkillers. After some conversation and examinations, Dr Ming told me that she could help with certain. So I tried acupuncture therapy for the first time in my life, and it really worked! I had a good night of sleep for the first time without the need of any pills that night." - R.G. Lomita
CONTACT US
YX Medical Group, Inc
4305 Torrance Blvd, Ste 306, Torrance, CA 90503
Tel: (310) 530-5678
Fax: (310) 370-1206
Keyword: acupuncture in Torrance, acupuncturist in Torrance, infertility in Torrance, fertility in Torrance, pain relief in Torrance, health care in Torrance, stress relief in Torrance, painless in Torrance, weight loss in Torrance, herb in Torrance, massage in Torrance,